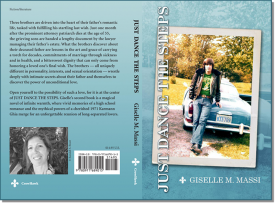 Just Dance the Steps
eBook (.mobi file)
(Price includes sales tax)
Just Dance the Steps is a magical novel of infinite warmth, where vivid memories of a high school romance and the mythical powers of a cherished 1971 Karmann Ghia merge for an unforgettable reunion of long-separated lovers.
Purchase this eBook and gain access to a digital download of Just Dance the Steps.
Click the "Add to Cart" button below to get started. eBooks are made immediately available for download after the payment form for the eBook purchase has been filled out and payment has been authorized.
Download is a .mobi file and can be read on the following devices:
Mac and PC Desktop computers
Apple iPad
Mobipocket reader
Palm Devices
Blackberry Devices
*To purchase this ebook as a .epub file (compatible with Mac, PC, and other common devices), view here.
Only logged in customers who have purchased this product may leave a review.