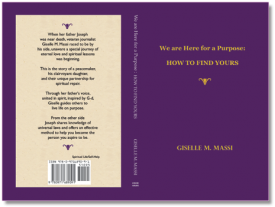 We are Here for a Purpose: HOW TO FIND YOURS
eBook
(Price includes sales tax)
In We are Here for a Purpose: HOW TO FIND YOURS Giselle shares her father's concise assignments, including a unique questionnaire, for finding one's truthful path.
Purchase this eBook and gain access to a digital download of We are Here for a Purpose: HOW TO FIND YOURS.
Click the "Add to Cart" button below to get started. eBooks are made immediately available for download after the payment form for the eBook purchase has been filled out and payment has been authorized.
Download is an .epub file and can be read on the following devices:
Mac and PC Desktop computers
Apple iPad
Apple's iBooks App
Amazon Kindle Fire
Nook
Blackberry Devices
Kobo eReader
Google Books App
Sony Reader
Adobe Digital Editions
Mozilla Firefox ePub Reader
Okular
*To purchase this ebook as a .mobi file (compatible with Mobipocket Reader, Palm devices, most Windows devices, and Blackberry Devices), view here.
Only logged in customers who have purchased this product may leave a review.